Read to the Dogs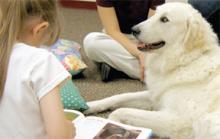 Event Type: Book & Author
Age Group(s): All Ages
Date: 3/20/2017
Start Time: 4:15 PM
End Time: 5:00 PM


Description:

"Paws" at the Library over spring break to read to furry, four-footed friends from Canine Connection.

For children in elementary school.



Location: The Lewis Auditorium (Ground Floor)
Contact: Elaine B.